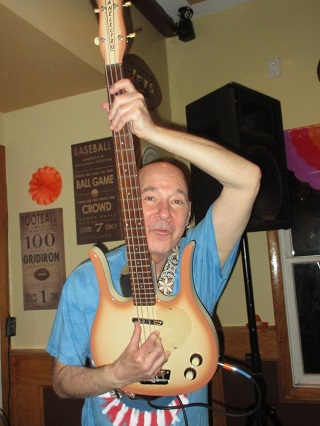 I've plucked, sucked, licked, blown, scratched, and spit on on almost every instrument known to western civilization. I even achieved a modicum of proficiency on guitar, electric bass, harmonica, piano, trumpet, trombone, and baritone.

I began my love affair with music in the fourth grade. Saddle Rock School (Great Neck, New York) offered me the choice of trumpet or drums. My mom offered me the choice of trumpet. I actually excelled until I got braces at age 13. After the hardware implant, my trumpet and I descended from first to second chair, never to regain our former glory. Welcome to the music business!

In 1967, I picked up the guitar and quickly learned Hanky Panky by Tommy James and the Shondells and Sloop John B by The Beach Boys. Eventually, Chappell Music published my song Young Girls. The punk group, The Dead Boys, expressed interest in recording the tune, but nothing ever came of it. In New York City in the early 1990s, I started The Roger James Band, a trio I fronted on bass and vocals. Depending on the club, we performed Blues, Rock, Funk, R&B, Reggae, and country. Along the way, I've played with such musicians as Joan Osborne, Blues Traveler, Smithereens, Shawn Colvin, Edgar Winter Band, Johnny Winter Band, Arthur Neilson, Paul Gabriel, Gil Parris, etc.

When the spirit left me, I took a four year break from the music business. Now I'm back singing and playing bass with the Roger Zee Xperience, a Classic Rock, Funk, Blues, and Reggae band. I also play with No Discipline, Johnny Feds, and Jim Stallone.