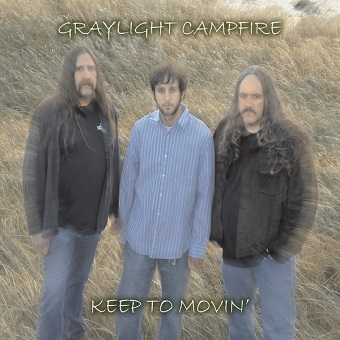 Graylight Campfire

"Keep To Movin'"
www.DaveHoganMusic.com/graylight.htm
CDBaby.com/cd/GraylightCampfire
CD review by Roger-Z (04/03/10) appeared in More Sugar, May 2010
Why does the small state of Connecticut produce so many great country rock bands? Maybe it's the water! In any case, add Graylight Campfire to the illustrious list. Their sophomore effort, "Keep To Movin'," sounds like an amalgam of Neil Young, The Marshall Tucker Band, The Band, The Grateful Dead, and ska. The group consists of Dave Hogan (guitar, vocals), Brian O'Callaghan (bass, vocals), and Pete May (drums) with guests Scott Camara (dobro), Tim "T-Bone" Stone (keyboards), and Dan Tressler (fiddle). Hogan and O'Callaghan write all the material, either alone or in collaboration.
Graylight Campfire will capture your heart with their down home, "come as you are" vocals, tunes, and jams. The CD kicks off with the gentle country beat of "Hello Old Friend," a song about two buddies reconnecting after a bitter disagreement. The "special guests" shine on this gem. The next two songs showcase the band's special blend of country funk. In "Start All Over" Dave Hogan provides a series of alibis for some dastardly deeds. "Where were you the night they took your Annie's life? I was holed up with someone else's wife." "Time To Run," featuring the "Casey Jones" beat, finds O'Callaghan singing of his inability to move. "It's a crazy situation but I don't care. Come time to run, I just sit right there." "Perfect Day" evokes a "Blue Sky" mood. "Got me a blue sky. Got me a sunshine walk. I hear the birds singing. Seen a double rainbow fall. It don't take too much to make a perfect day. I want to share it with the world but I don't want to give it away." In the country waltz, "Lookin' For a Reason", a working man tries to find meaning in his grueling life.
But the real treat of this record lies in the up tempo jam tunes. Let's start with the two pumped up ska tracks. "Strange As It Seems" enumerates the insane and contradictory emotions of love. "Ever since I've loved you, my eyes won't see the color black. I can't get enough love to hold me over in my slack." The album closer, "The Day You Cease," features a jacked up hook that powers an angry diatribe. The band jams the tune out like crazy. The power rock of "Summer Wind" will billow your sails. "Summer wind will blow on my feet again. No matter where I go or where I've been. It's been a long, long time since I don't remember when, Summer wind will blow me home again." The title cut, "Keep to Movin'" takes that energy and slams into 5th gear. Think of Marshall Tucker's "24 Hours At a Time." "Tires on the road, boots on the stage, sun on the pavement, all part of the game. I tell myself got to keep to movin'." O'Callagan slips in a tasteful bass solo and Hogan ripps out a merciless guitar lead powered by the fuel-injected rhythm section of O'Callaghan and May.
In this day of perfectly computerized, sound-alike, cookie-cutter radio, Graylight Campfire shines like a beacon in the dark. So much energy, so much groove, just so much damn soul!
©2010 Roger-Z